Gardens are a great space for dogs to play and explore. But there are so many more benefits to a garden, both physically and mentally. The extra space helps to keep your dog active and healthy, whether they're chasing a ball or playing with other pets. Exploring new sights and smells also keeps them stimulated to prevent boredom.
All breeds need to let loose, so having some outdoor space to run wild makes them happy, as well as healthy. Not to mention, doing zoomies outside reduces the chance of breaking something. But how safe is your garden? We've explored some of our top tips on how to create a dog-friendly garden, from the non-toxic plants to grow to fun activities to reduce destruction.
The first step to making your garden dog-friendly is a safe and secure fence. Regularly check your fence panels for gaps or holes, particularly after storms, in case of damage. Fence panels should always be bedded into the ground to prevent your dog from digging under them. If you're a new puppy parent, be extra cautious with gaps under gates and between fencing – curious pups can squeeze through the tiniest holes.
Dogs can be very smart and determined, especially hunting breeds, when they've picked up a new scent. To keep large or mischievous dogs safe, ensure fencing is at least 6 feet high. If you have a clever breed, avoid placing garden furniture or storage against your fence to prevent your dog from escaping.
2. Distract your dog from digging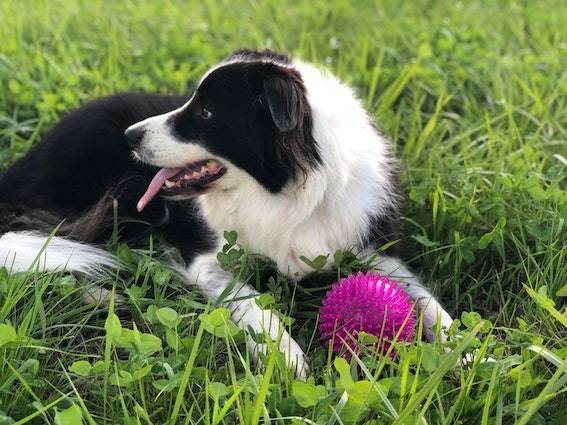 An essential part of creating a dog-friendly garden is entertainment. While it isn't always possible to deter dogs from digging or getting up to mischief, add some distractions. Keep your dog focused on the things you want them to play with, and they're less likely to cause trouble.
Some activities could be:
An agility tunnel, or a DIY tunnel made with old boxes is just as much fun
A ball pool or paddling pool (in warmer weather)
A sandpit or digging pit to discourage them from digging up your plants
Hide and seek with toys or balls to practice their foraging skills
A treasure hunt will keep them active, sniffing out their treats
3. Grow dog-friendly garden plants
Sometimes dogs and flowers don't mix, especially in a garden with a puppy. Some plants and flowers contain toxins that are harmful to dogs and other pets. So, to keep your dog safe, it's essential to grow dog-friendly garden plants.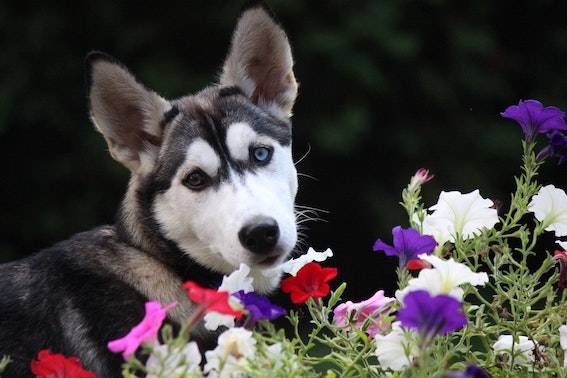 These popular UK plants are poisonous to dogs:
Daffodil
Geranium
Hydrangea
Hyacinth
Iris
Rhododendron
Peony
Snowdrops
Tulip
Yew
Here are some of our favourite dog-friendly garden plants and flowers:
Camellia
Cornflower
Honeysuckle
Gerbera
Lavender
Petunias
Roses
Snapdragon
Sunflower
Zinnias
For a complete list of toxic garden plants, visit The Dog's Trust. If you're concerned that your dog has ingested a poisonous plant, seek immediate advice from your vet.
4. Dog-proof your veggie patch
Unfortunately, it isn't just plants and flowers that can harm your beloved pooch. Certain fruit and veg can be toxic too. To deter your dog from your veggie patch, install a raised bed or cover it with chicken wire fencing. If you have a large garden, consider sectioning off part of your garden to keep your dog away from your veggie patch.
Be extra careful when growing toxic fruit and veg around your dog, including onions, potatoes, rhubarb, sweet peas and tomatoes.
5. Defend your garden from slugs and snails
Slugs and snails aren't just bad news for your plants. Ingesting slugs and snails can cause your dog an upset stomach, or worse. In rare cases, they can pass on a parasite called lungworm, which can be fatal. While slugs and snails taste awful, some dogs don't seem to mind too much. So, keep them safe by evicting the nasty critters from your garden.
You can do this entirely safely with our natural slug and snail defence. Available as either a spray or a gel, it creates a natural barrier without the need for chemicals. The plant-based defence can be applied directly to paths and around your garden to prevent snails from entering.
6. Swap pesticides for pet-friendly products
With any garden pest control or plant care, it's essential to make sure it's pet friendly. Certain fertilisers and pest removers contain chemicals that are harmful to dogs and the wider ecosystem. Read the back of the label of any products you've bought to ensure they're safe to use around your dog and other pets and wildlife.
Our natural garden and lawn care products are 100% plant-based to do the job without potential side effects. They protect and nourish your garden without risking your dog's safety. But not only that, they're bee-safe and eco-friendly too.  
7. Keep your garden clean and fresh
Keeping your garden clean is all the more difficult with a dog. But keeping it free from nasty bacteria is essential to create a safe space for your pets and your family. We've made our pet-safe patio, decking and artificial grass cleaners with 100% plant oils. They're designed to clean stubborn dirt, bacteria and mould safely so your dog can get back to mischief.
8. Protect your lawn from dog pee
The nitrogen in your dog's pee can burn your grass, leaving unsightly spots. This can get worse over time, leaving you with a patchy lawn. To keep your grass green, encourage your dog to pee in a designated spot in your garden. While this might sound impossible, you can use our urine stop spray inside and outside the home to deter peeing.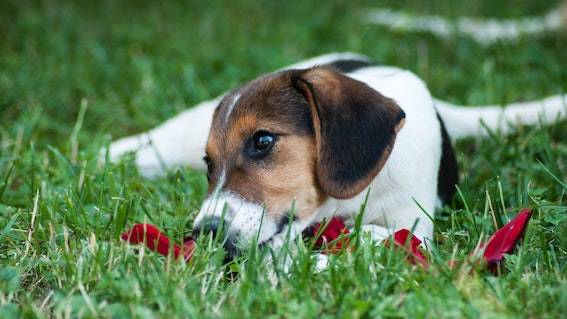 Spray it on your grass regularly to discourage your dog from peeing on your lawn. The natural ingredients won't upset or harm your dog; they'll just find somewhere else in your garden to go to the toilet.
9. Ensure there's a shady area to keep cool
If your garden is a sun trap, make sure there's a shady spot for your dog to lay. Dogs can't regulate their body temperature in the same way that humans do. They cool down by panting, drinking plenty of water and not lying in the sun for long periods. Dogs with short coats and light skin are also prone to burning, making it all the more important.
Although usually, your dog will move inside when they get too hot. A parasol or pergola will provide much-needed shade, so they can lay out of direct sunlight on hotter days.