We're thrilled to announce that Cooper and Gracie are now global award-winners!
We're Socially Responsible Business of the Year in the Payoneer Entrepreneurship Awards. The Payoneer Awards were set up to celebrate global entrepreneurs and small businesses who strive to change the world, and we couldn't be happier.
From the very beginning, our founder Craig had a mission to help pets and their owners worldwide with 100% natural and cruelty-free products. Being socially responsible is at the heart of everything we do. From the high-quality, ethically sourced blends of natural ingredients that go into each product, to the 100% recyclable and eco-friendly packaging. We're committed to solving everyday pet problems in an environmentally safe way.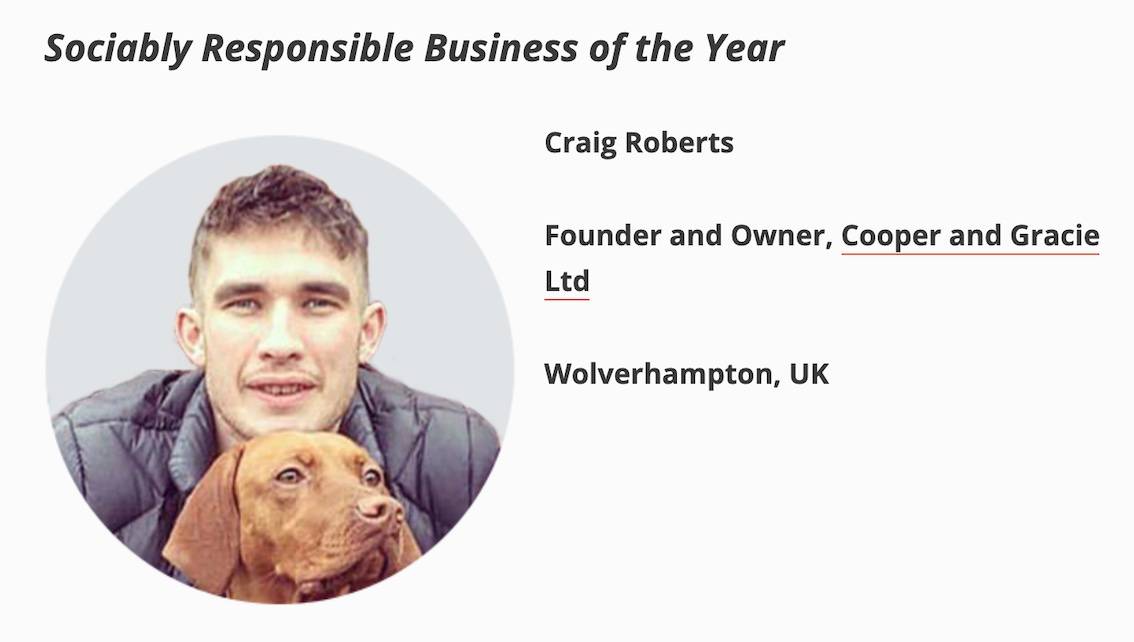 We're incredibly proud of the work we've done so far. Working with expert scientists, we've invested heavily in researching environmentally safe, pesticide-free product ranges. We'll continue to invest in new ways of creating effective, all-natural product ranges that are chemical-free, animal-friendly and safe for the wider eco-system. What started as a plan to help a dog with itchy skin has now evolved into home, garden, equine and poultry care, with much more to come. Find out more about our journey here.
Being socially responsible extends much further than our product ranges. We're on a mission to help 10 million rescues who need our help. We've aimed big because we want to make a big difference to the lives of so many vulnerable rescues. We're dedicated to donating, funding and raising awareness through our platforms to support in any way we can. We're not afraid of getting stuck in to help the cause either, so you may even see us at a local shelter near you. And every purchase you make contributes towards our 10 million rescues mission.
We want to thank each of our amazing customers for your support through our journey to Socially Responsible Business of the Year. Today we have over 30,000 5-star reviews across our various platforms. We love seeing every success story from pets and their owners who've put their trust in our products.
To find out more about our Socially Responsible Business of the Year Award and read Craig's story, visit The Payoneer Awards. You can also get to know the Cooper and Gracie brand, including Tilba the vizsla, the inspiration behind the brand, and our journey to all-natural pet, home and garden care on our brand story page.