The sunny summer weather is perfect for getting outside and exploring our beautiful countryside. But while we love the sun, the hot weather can be dangerous for our pets. In temperatures as low as 20°c, dogs are vulnerable to heatstroke and sunburn, so it's essential to keep them safe and protected.
We've explored our top tips for keeping dogs cool in summer, from the best times to exercise to using SPF.
How to keep dogs cool in hot weather
The hot weather can be uncomfortable for dogs. Making some small changes to your dog's daily routine can keep them cool, reducing the risk of heatstroke, sunburn, and other sun-related injuries.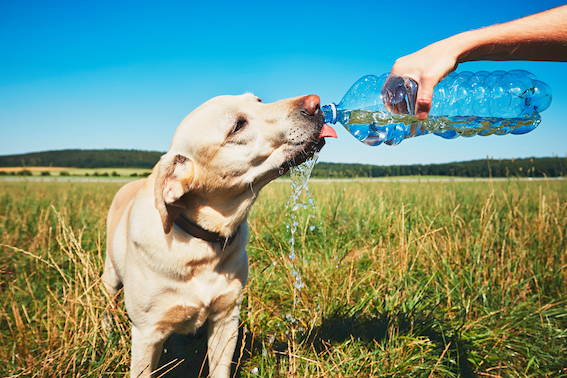 Some breeds are more prone to heat exhaustion and heat stroke, including those with long hair or a double coat. To keep your dog cool and their coat healthy, regular brushing removes dead hair and helps them to shed their winter coat. Keeping the fur trimmed around your dog's feet and legs and under their body can also help to keep them cool.
Walks during cooler hours
It may be more suitable to walk your dog early in the morning or in the evenings to avoid extreme heat on hotter days. If temperatures are lower than 23°c, your dog will be safe on a leisurely walk with plenty of shade and water. Avoid taking your dog out in temperatures above 23°c (any time of day), as they can very quickly become unwell.
It goes without saying that dogs need to drink plenty of water throughout the day. But encouraging your dog to stand in water is a great way to cool them down quickly. Dogs don't sweat like humans; they lose heat when their paws touch a cold surface. Depending on the size of your dog, invest in a dog paddling pool or fill a large tray with cool water. Throw balls or toys in to encourage them to play in and out of the water.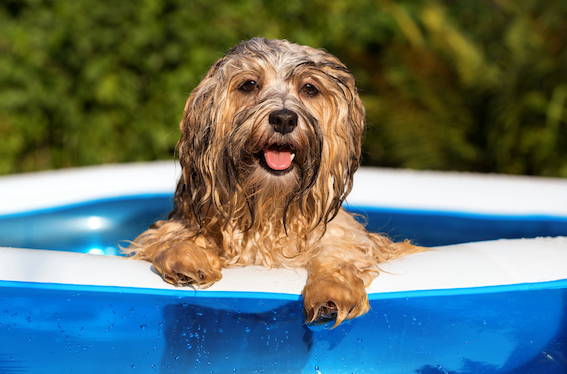 Ice cubes and frozen treats
Ice cubes and frozen treats like banana or tuna are the perfect way to cool a dog down. Not only are they delicious, but they help to keep your dog hydrated and encourage them to take it easy (even for a few minutes). To keep your dog entertained for longer, try freezing peanut butter in a puzzle toy. But be wary of over-feeding and ensure you count any treats as part of your dog's daily calorie intake.
Sun protection is just as important for dogs as it is for humans. While the coat protects their skin from sun damage, some areas are vulnerable to sunburn. The ears, nose and tummy aren't as protected, so these will burn much more quickly without sunscreen.
Never use human SPF on your dog as this can contain toxic chemicals. Instead, choose a natural SPF for dogs and apply it regularly to any exposed skin.
During the summer, dogs are also susceptible to burns from hot pavements. Firstly, always check the temperature of the pavement before you walk your dog on it. If it's too hot to touch by hand, it's too hot for your dog's feet. This is another reason to avoid walking your dog during the hottest part of the day.
To protect your dog's paws and nose, use a natural paw and nose balm. Our nourishing balm moisturises and protects dogs' sensitive paws and noses against extreme heat.
If your dog loves nothing more than lying out in the sun for a snooze, try a cool mat. These often have a gel inside them which is activated by pressure. As your dog lays on the mat, it cools down, providing a soothing space to relax. But be careful leaving your dog with their mat unattended. Although the gel is non-toxic, leaving your dog alone to chew through their mat could get messy.
If your garden is a suntrap, make sure there's a shady area for your dog to lay. This could be under a tree or a canopy. While it's not a good idea to let your dog lay outside for too long, having a shady spot means they can keep cool in hot weather. You should also use any shade for placing their water bowl and toys, so they don't get too warm.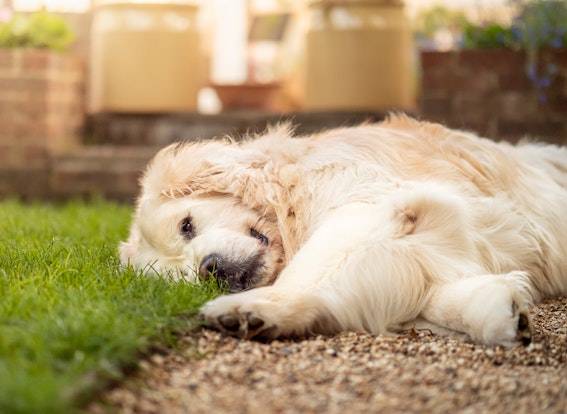 Often leaving your dog home alone during the hot weather is unavoidable. Leaving a dog in a car is an absolute no-go, not even for a few minutes. So, what can you do to keep your dog cool at home? Much like outdoors, ensure your dog has a cool, shady spot to sleep. Where possible, leave interior doors and windows open to encourage airflow and avoid rooms from becoming hot and stuffy.
Dogs can suffer from heat rash, just like us humans. Although following the tips above should prevent heat rash and other sun-related injuries, some dogs skin is sensitive.
Soothe your dog's heat rash or sunburn with a cooling aloe vera gel. Our 100% natural aloe vera for dogs soothes itchy and irritated skin instantly to reduce licking or scratching and promote healthy skin.
What are the symptoms of heatstroke in a dog?
If you think your dog may be suffering from heatstroke, it's vital to seek advice from your vet immediately. If your dog has been exposed to the summer sun, look out for the following symptoms:
If you think your dog may be suffering from heatstroke, it's vital to seek advice from your vet immediately. If your dog has been exposed to the summer sun, look out for the following symptoms:
Excessive panting
Drooling
Vomiting
Diarrhoea
Dizziness
Lack of energy
Not peeing as frequently
To keep your dog cool this summer and protect their sensitive skin from the sun, explore our dedicated skin care and paw care collection. As always, our products are 100% natural and entirely safe for all dogs and puppies from 12 weeks.
Need convincing? Our handsome pal Mr Beefy loves being pampered with our paw and nose balm. And our pal Vinnie is protecting his gorgeous snout with our anti-bacterial cream with SPF50 this summer: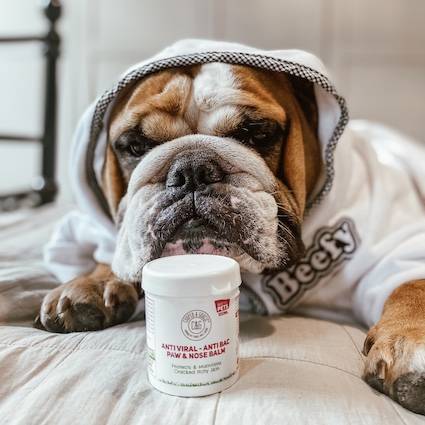 "My spa days are never finished without me using my favourite Paw & Nose Balm... It keeps my paws & nose moisturised and healthy!"
instagram - @mrbeefy_bulldog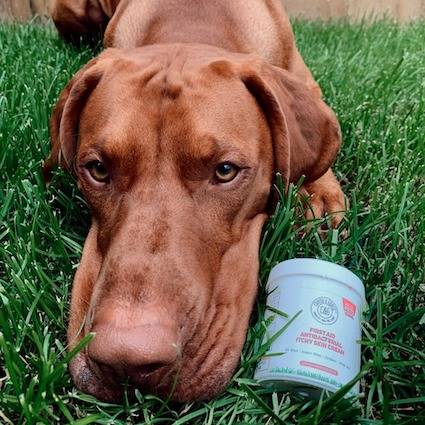 "Human's been putting this cream on my snoot... Stops the top of my snoot getting burnt in the sun"
instagram - @vinnie_the_pooch