There's no denying, Christmas is going to be a little different this year. With smaller gatherings of family and friends, the festivities might be quieter, but this doesn't mean we can't get into the Christmas spirit with our four-legged friends. There are so many fun Christmas games for dogs that are enjoyable for the whole family.
Here are some of our favourite games to try indoors and outdoors to keep you and your pup entertained this Christmas:
We all remember playing pass the parcel at children's birthday parties. This dog-friendly version is the same idea, and you can play it with one or more dogs. Start by wrapping a soft or squeaky toy in paper for the final prize. Place a small treat or piece of kibble in between each loosely wrapped layer.
During the game, you can either sit back and relax while your dog goes crazy for the treats. Or play along with them. Either way, your dog will love it!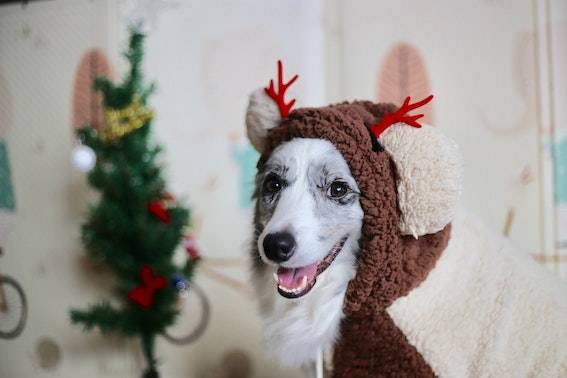 This game works better with more than one dog to make it a real contest – as long as your dogs don't mind playing dress-up! You can even get the rest of the family involved over a video call. Each team or person has a set time to dress their dog in Christmas fancy dress.
Bonus points for creativity or for your dog keeping the fancy dress on long enough for judging. The human of the winning pooch gets a prize, but all dog participants get a treat for being good.
Regardless of your dog's obedience, there's going to be a trick they haven't mastered yet. Some of the basics, like paw and roll over, are not only entertaining. They make everyday TLC, like applying paw balm, much more manageable.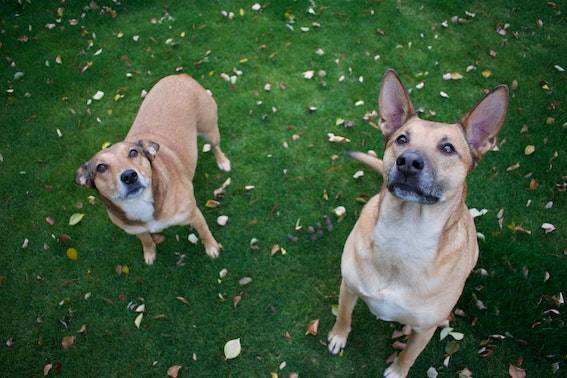 Here are some more of our favourites:
Play dead – the next one to try once your dog can rollover
Spin – a simple trick even puppies can do
High five – for once you've mastered the paw trick
Ring the bell – advanced, but a fun party trick
The key to tricks is to try them little and often. Around 5-10 minutes, a few times a day over the Christmas period will keep your dog stimulated and help you bond.
A treasure hunt is an excellent game for families of all sizes and can be adapted dependent on obedience levels. Ask your dog to sit and wait while you hide treats around your house (or garden, for expert sniffers!). For puppies, start simple by placing treats in easy to spot places and encourage them to find them with lots of praise when they get it right.
This game is not only fun for dogs, but it also keeps them mentally and physically active and distracts them from all the tempting human treats.
Much like a treasure hunt, except your dog has to find their favourite humans instead of treats. However, treats or toys are available as a reward! Ask your dog to sit and wait while one or several of your family hide around the house (or garden). When you're ready, call them and wait for them to find you.
Your dog will love searching for you, treat or no treat. Hide and seek is also a great game to play on walks to keep your dog stimulated and prevent them from wandering too far.
You don't need specialist equipment to have some fun with agility training. Use items around your house to create an exciting and safe obstacle course for your dog. Place items like hula hoops, cardboard boxes and rope around your home or in your garden to build jumps, ramps, tunnels and weaving obstacles. Encourage your dog to run through with treats and lots of praise.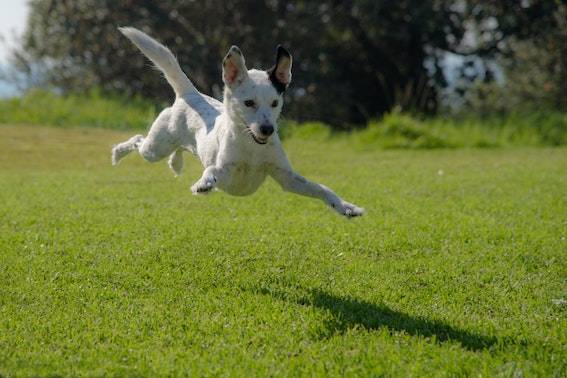 An agility course is a great way to keep your dog active over Christmas, especially on really wet or cold days.
We hope you're feeling inspired to try some fun new games with your dog this Christmas. To keep your dog healthy, switch 1-2 treats for our advanced hip and joint supplement to ensure they get the vitamins and minerals they need to stay active.